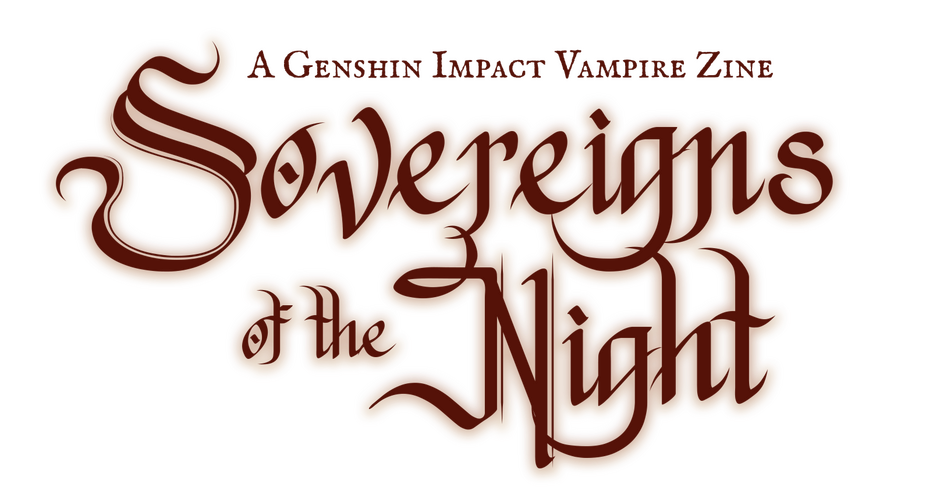 Preorders are now open!
Sovereigns of the Night is a zine featuring
the characters of Genshin Impact as vampires.Do you dare join us as we uncover the secret nightlife of Teyvat?
SCHEDULE
Please note that this schedule is subject to change.
| | |
| --- | --- |
| Launch! | Aug 12th |
| Interest check Opens | Aug 24th |
| Interest Check Closes | Sept 14th |
| Interest check results | Sept 28th |
| Apps Open | Oct 11th |
| Apps Closed | Nov 18th |
| Results | December 2nd |
| Check-in 1 | January 12th |
| Check-in 2 | February 5th |
| Check-in 3 | February 20th |
| Final submission | March 20th |
| Preorders open | April 9th |
| Preorders close | June 8th |
| Production period | August onwards |
FAQ
✦ What is a zine?
A fanzine, or zine, is a term used to describe unofficial fanmade publications which usually contain written fiction and artworks. This zine is a collaborative project by multiple contributors.✦** What's the theme of the zine?**
This zine theme is Genshin Impact characters living (well, kind of) as vampires.✦ Why is there no option for paypal on the shop?
There's no option for Paypal because our shop breaks the Paypal's TOS due to the inclusion of the NSFW ship zine.
Due to this, Paypal may freeze our funds for 6 months or in the worse case scenario, take away all the funds.
We hope you understand that we chose not to use Paypal in order to not risk your money getting frozen or lost. Several zines have had this happen recently, so we wanted to be careful with your money.
In extenuating circumstances, we can still invoice you separately via Paypal. Please DM us on twitter, instagram or by mail if this is the case!✦* It's this zine for profit or for charity?**
This zine is for profit.✦ Will the zine be physical or digital?
Both our zines "Sovereigns of The Night" and our ship zine "The Sovereign's Desires" (Ship focused, allows NSFW pieces) will be physical.✦ Will ships be allowed?
Ships will be allowed in our side zine "The Sovereign's Desires".✦ Does my piece in the side zine need to be NSFW?
No, you can create a SFW piece too.✦ Can I submit NSFW samples?
Yes.✦ What is a pinch hitter?
A pinch hitter is a person who is willing to be contacted after creation period started to cover for another contributor who had to step down from their role, they have the same requirements as the other contributor but less time to work on their piece.✦ Can I get in both zines?
We will try to accept contributors only for one zine each, however, all of them will be in the same server and will be able to look at updates from both, as well as getting the same compensation regardless of which zine they're a part of.
If you're interested in applying for both we encourage you to do so.✦ What location will the zine be shipped from?
Hong Kong✦ Are there any requirements for applying as a contributor?
You can check our guidelines here✦ Will artists and writers be allowed to collaborate?
Of course! We will set up a channel for this on our discord.✦ Where will communications happen?
All contributors are expected to submit information and check-ins via the Discord server.
We've created a little index for those interested in knowing which couples will featured in our ship zine and any tags/warnings associated with them! We strived to include a wide variety of ships whilst respecting our contributors' preferences.The ship zine will be around 80+ pages.List of featured ships:✦ Art: ShenLan (Shenhe & Yelan): mature. Tags: Lingerie, blood
✦ Art: EiMiko (Baal & Yae Miko): explicit. Tags: Nudity, blood, oral sex
✦ Art: ZhongChi/TartaLi (Zhongli & Childe): mature. Tags: Blood
✦ Art: XiaoVen (Xiao & Venti): everyone. Tags: Blood
✦ Art: Itto & Heizou: explicit. Tags: Nudity, restraints, dubcon
✦ Art: AyaThoma (Ayato & Thoma): explicit. Tags: Blood, bathing, nudity
✦ Art: KavehTham (Kaveh & Alhaitham): explicit. Tags: Blood, nudity, biting, rough sex
✦ Art: LumiGorou (Lumine & Gorou): explicit. Tags: Blood, scars, biting, dubcon, dacryphilia
✦ Art: Signora & Arlecchino: everyone. Tags: Blood
✦ Art: ScaraMona (Scaramouche & Mona): teen. Tags: Blood, gun, choking
✦ Art: ChiLumi (Childe & Lumine): teen. Tags: Blood, gun, biting
✦ Art: EiMiko + Sara (Baal, Yae Miko & Sara): mature. Tags: Blood, lingerie, biting, knife
✦ Art: BeiGguang (Beidou & Ningguang): teen. Tags: Blood
✦ Art: Haino (Alhaitham & Cyno): mature. Tags: Blood, nudity, biting, dubcon
✦ Art: RegraTher (Pantalone & Aether): teen. Tags: Blood
✦ Writing: YoimAya (Yoimiya & Ayaka): teen. Tags: biting, kissing, hurt/comfort, bathing, starvation
✦ Writing: DottoLone (Dottore & Pantalone): mature. Tags: mild bloodplay, mild knifeplay, violence, dubcon
✦ Writing: JeanLisa (Jean & Lisa): explicit. Tags: top Jean, bottom Lisa, biting, semi-public sex, oral sex, clothed sex
✦ Writing: ScaraEther (Scaramouche & Aether): explicit.Tags: mentions of non-consexual sex, slavery, graphic descriptions of violence, dirty talk, anal penetration, anal fingering, overstimulation , begging, choking, unprotected sex*
✦ Writing: ThomaYato (Ayato & Thoma): explicit. Tags: mild violence, bloodlay, power imbalance, sexual consent, mentions of off-screen violence
✦ Writing: Pierro & Signora): mature. Tags: love after loss, grief, biting, intimacy, vampire hunter, major character death
✦ Writing: BeiGuang (Beidou & Ningguang): mature/potentially explicit. Tags: Blood, bloodplay, injury/saved from death
✦ Writing: Diluc & Kaeya): mature. Tags: disappearance, blood